Press Release
Informa Markets remains optimistic about the MICE business, especially after the COVID-19 vaccine rollout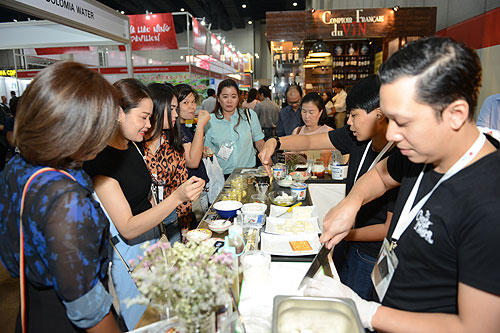 Informa Markets remains optimistic about the MICE business, especially after the COVID-19 vaccine rollout. They also have confidence in the success of Food & Hotel Thailand 2021 which will be held in hybrid version with two new zones including 'Restaurant & Bar' and 'Coffee & Bakery'. Saladplate, a global B2B platform, will be launched at this event to meet business needs.
Informa Markets, the world's leading organizer of several global exhibitions, remains optimistic about the MICE business and believes it will recover dramatically after vaccination. They are going forward to holdFood & Hotel Thailand 2021 in hybrid version from 8-11 September. There will also be two new zones including 'Restaurant & Bar' and 'Coffee & Bakery' as well as a launch of Saladplate, a digital B2B platform to connect all parties in food & hospitality businesses.
Sanchai Noombunnam,Deputy Managing Director of Informa Markets, said about the situation of MICE business in 2021 that it will be getting better than the previous year, especially in the second half of the year when COVID-19 vaccine is distributed across Thailand. It would build confidence in business investment, leading to the growth MICE business. Informa Markets will transform exhibition format conforming to new normal and comply with policy of UK-based headquarter to hold hybrid exhibition. Online platform has been developed to connect business, buyers, and suppliers all over the world, and facilitate their business matching. Saladplate, a digital platform to network food and hospitality industries across the globe, will also be launched at the event.
Supaporn Aungsrisuraporn, Senior Event Manager of Informa Markets, said about the Food & Hotel Thailand 2021 that it will be premier international event for food and hospitality industries. There will be a large number of visitors including business owners and those who are interested in food service, restaurant, café, and hotel businesses. It will be held from 8-11 September at BITEC Bangkok in hybrid version to serve the best to visitors in the current situation of COVID-19 pandemic. This allows business discussion among exhibitors and visitors happened either through physical or virtual exhibition. Furthermore, visitors will be able to discover various trends at the event including online business, e-commerce, delivery, health and safety, and environmental friendliness. The event consists of six existing zones including Food & Drinks, Coffee & Tea Culture, Wine & Spirits, Food Service Equipment, Hospitality Style, and Hospitality & Retail Technology; and two newest zones including Restaurant & Bar and Coffee & Bakery which are dramatically growing businesses and attractive in investment.
This year's event will also introduce Saladplate, a digital B2B platform to connect businesses in food and hospitality industries. It will be first launched in Thailand after 3-year development. Saladplate is a e-marketplace that has database gathered from 26 past Food & Hotel event around the world. The system features various functions including digital product catalogue containing description, image and video; quotes management; appointment scheduling in text or video; and advanced business matching service. This platform can connect between buyers and suppliers and promote business matching seamlessly.
The event has received good cooperation from various government and business sectors both locally and internationally to hold several activities before and during event including Thai-Italian Chamber of Commerce, Thai Hotels Association, Thai Restaurant Association,Thailand Chefs Association, etc. Moreover, there are now two international pavilions confirming to join this event which are Japan and Italy. Over 450 global brands also insist to come to exhibit their products and services at the event.Regarding to seminar and entrepreneur development programs, they will be held in webinar and workshop. There will be two upcoming events; 'Coffee Flavorist Introduction' workshop partnered with Ministry of Roasters and 'Data Driven Marketing Increasing Sales' online seminar partnered with Choco. For more information, please visit www.foodhotelthailand.com.