ข่าวสารและข่าวในแวดวงอุตสาหกรรม
FOOD & HOTEL THAILAND REMAINS PREMIER PLATFORM FOR FOOD & HOSPITALITY INDUSTRY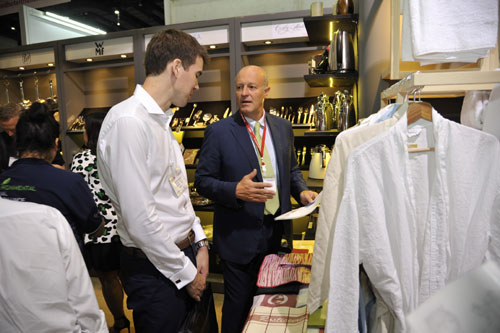 Bangkok, Thailand — Food & Hotel Thailand (FHT), the region's leading international food & hospitality trade event, is back and bigger than ever. This year, more than 300 international and local suppliers representing 1,500+ brands will showcase premium products and services from over 30 countries across three exhibition halls.
FHT 2018 has expanded to an area of 18,000 sqm to meet increasing demands in food & hospitality and will feature seven international pavilions, including China, Italy, Japanx3, Poland and South Africa. There will also be three new pavilions; two from Japan: Osaka & Taito highlighting new and exciting Japanese food & beverage products; and an Italian pavilion by Bellavita showcasing new Italian food & beverage products.
FHT has partnered with Bellavita Expo for the first time this year. Held concurrently with FHT, Bellavita Expo Bangkok is the leading Made-in-Italy food and beverage trade show. This brand-new partnership is expected to be the most important B2B event in Asean geared entirely toward excellence in Italian F&B. In addition to discovering and sampling Italian food and beverage products, those interested in authentic and high-quality Italian products will have the opportunity to discuss and interact with Italian producers and professionals.
FHT will also work in close cooperation with leading industry associations in Thailand, making this a must-visit event for every level of the food & hospitality industry. Expect to see many activities, conferences and seminars, including:
· Thailand 20th Hospitality Industry Congress by the Thai Hotels Association
· Thai Restaurant Association Seminar
· Hotels & Building Chief Engineering's Club Seminar
· Dusit Thani College Seminars
· Thai Spa Operators Association Seminar
· Innolab Forum Food Allergen Management for Food Retail, Food Services & Food Catering
· Wine Master Class 2018 and Wine Seminars 2018
· Thailand's 24th International Culinary Cup (TICC2018)
· The Best Sommelier in French Wines and Thai Wines 2018
· National Thailand Latte Art Championship 2019
· Thailand National Culinary Team for Culinary World Cup Luxembourg 2018
· The 14th FBAT International Wine Challenge
· Executive Housekeeper Workshop and Seminar
Exciting new additions to this year's activities include: Gelato Workshops by Carpigiani Gelato University where participants can learn to make gelato and how to operate a gelato business; and the Thailand National Coffee in Good Spirits Championship 2019 which will highlight new blends from coffee and spirits.
"As the food & hospitality industry grows, FHT is also expanding to serve increasing demands in Thailand and the region," said Justin Pau, General Manager of UBM Asia (Thailand) Co., Ltd. "With our new and existing partners, we believe that FHT 2018 will provide exceptional opportunities for visitors to exchange knowledge with industry professionals and explore premium solutions from leading international and domestic suppliers."
Food & Hotel Thailand 2018 will be held from 5 to 8 September, 10am to 6pm in Exhibition Halls 102-104 at BITEC, Bangkok. This year's event will offer more variety of premium products and solutions in food & hospitality, as well as access to industry leaders and know-how than ever before. It is truly not to be missed. For more information, please visit www.foodhotelthailand.com, Facebook Page www.facebook.com/Food & Hotel Thailand
Notes to Editor:
For more information, please contact Wantita Porntanawong (Bow)
Tel: +662 036 0521
Email: [email protected]
About Food & Hotel ThailandFood & Hotel Thailand is organised by UBM, which in June 2018 combined with Informa PLC to become a leading B2B information services group and the largest B2B Events organiser in the world. Please visit www.ubm.com/asia for more information about our presence in Asia.