ข่าวสารและข่าวในแวดวงอุตสาหกรรม
Thai Hotels Association Join Hand with UBM BES to Support Food & Hotel Thailand for Next 5 Years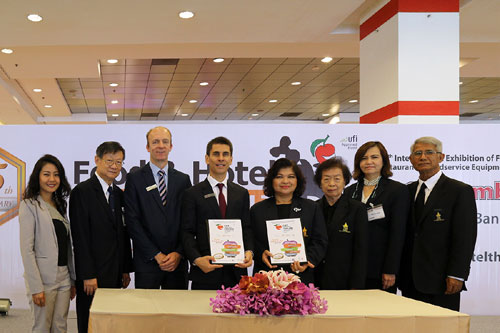 Ms. Supawan Tanomkieatipume President, Thai Hotels Association (THA) and Mr. Justin Pau, General Manager, UBM BES signed an MOU for collaboration to organized Food & Hotel Thailand (FHT), a premium international food and hospitality event for the upcoming 5 years.
Ms. Supawan Tanomkieatipume mentioned that tourism industry is one of the key industries driving Thailand economic growth. It is promising that the number of arrivals in Thailand has continued to grow over the years. Thus, driving the industry to be more competitive and the hotel and accommodation operators must develop both their potential and their performance to meet the demand for professionalism.
Over the past 25 years, FHT has been the leading premium international trade exhibition for food and hospitality business in Thailand and the region. The event strongly helps support, promote and develop the potential of Thailand's constantly evolving and expanding industry, corresponded to THA's objectives. By presenting the full range of top quality products latest technology and innovations, holding seminars and providing numerous business networking opportunities, business entrepreneurs and associates are encouraged to pick-up new ideas and skills to improve their business.Thai Hotels Association would like to thank UBM BES for organizing this event. With spirit of goodwill and cooperation of both parties, THA will continue to support the Food & Hotel Thailand officially for the next 5 years from 2018-2022.