ข่าวสารและข่าวในแวดวงอุตสาหกรรม
Food & Hotel Thailand (FHT) 2017 – Serving the Industry for 25 Glorious Years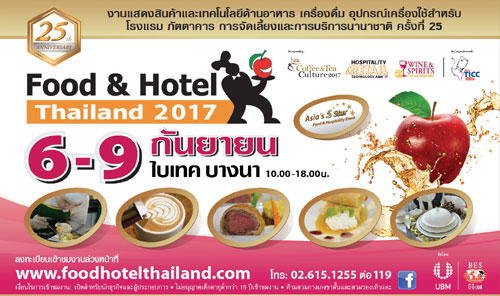 Food & Hotel Thailand (FHT) 2017 - The 25th International Exhibition of Food & Drink, Hotel, Bakery, Restaurant & Foodservice Equipment, Supplies & Services opens today for 4 days until Saturday 9th September, taking place in Halls 103 to 105 at Bangkok International Trade & Exhibition Centre (BITEC), Bangkok, Thailand.
FHT is the leading premium international trade exhibition for food and hospitality business in Thailand and the region. Celebrating our successful 25th anniversary edition, FHT2017 has grown over 12% in size, and over 18% in number of exhibitors from last year. Gaining many more international pavilions and participants, which stands it proudly above previous editions. FHT exhibition will showcase a great selection of high quality food and beverages, as well as brand new equipment, products and hospitality technology and innovations. With strong support from the industry's leading associations, FHT also acts as a platform for business networking, skills training and knowledge sharing via leading industry competitions, events, conferences and seminars ensuring FHT is the best event for the industry.
"Tourism is one of the key drivers of economic growth for Thailand. In 2017, the Ministry of Tourism and Sports projects tourism revenues will increase by approx. 8.17% to 2.71 trillion baht. And of this revenue, 1.78 trillion baht will come from foreign tourists. Thailand has welcomed 16.8 million foreign visitors in the first half of 2017 and gained 852 billion baht. The fourth quarter is historically the high season for tourism in Thailand. From these promising numbers, there is no doubt that total revenue from the tourism industry will meet targets for the year. High tourism growth drives related business such as hotels, restaurants and service providers to enhance and improve their capacity and efficiency. Food & Hotel Thailand is a 'must-attend' event for trade professionals to find new ideas, new products, learn new skills and connect with the world's best companies."Mr. Sanan Angubolkul, Vice Chairman, The Thai Chamber of Commerce
This year marks a significant milestone in FHT's long and successful history. Celebrating 25 glorious years of serving our industry and delivering the best standards. FHT2017 will feature, over 390participants from 30countries, which represents an 18% increase from last year. AS well as 7international pavilions from Belgium, China, Germany, Japan, South Africa, Taiwan and the USA.
Newand Highlights for FHT2017 includes:
ü New International Pavilions from Belgium, Germany and South Africa
ü New Products with over 22 Global Launches, 12 ASEAN Launches and 38 Thailand Launches
ü New Best Chef Competition & Innovation Categories within Thailand International Culinary Cup (TICC) 2017
ü New International Wine Challenge Judges Panel and Thai Wine Master Classes
ü New 5 Course Western Table Set Up Competition
ü World Champion 2017 Latte Artist from Thailand
FHT2017 line-up of premium exhibitors include Athena, Boonrawd, Cafes Richard, Cambro, Catunambu, Carpigiani Group, Conti, Convotherm, CP Meiji, Dapper, Darling, Fujimak, Guy Degrenne, Hafele, Hobart, i-cream solutions, Image Laundry Systems, Italasia Electro, Jaspal Home, Kannegiesser, KCG, Kenwood, Kitchen Aid, LA Cimbali, Lamb Weston, Lucky Flame, Manitowoc, Maruzen, NEC Corporation, Nemox, Panomrung, Peerapat, Rational, Royal Porcelain, Silikal, Simmons Bedding, Seven-Five, Springmate, Stölzle Glasgruppe, Surapon Foods, Thai Nippon Foods, US Meat Export Federation, Winterhalter, Zojirushi and many many more.
"FHT has grown tremendously this year with many more new exhibitors, new pavilions, new products, new competitions and events. We have an exciting not-to-be-missed 4-day show lined up for the industry. FHT is the Industry's Choice in Thailand to come, see and experience the best food and hospitality business."Said Mr. Justin Pau, General Manager, UBM BES
FHT2017 leading industry events include; Thailand's 19th Hospitality Industry Congress by the Thai Hotels Association (THA), Thailand's 23rd International Culinary Cup (TICC) by Thailand Chefs Association (TCA), Thai Restaurant Association (TRA) Seminar, 4th Thailand National Latte Art Championship 2017, 13th FBAT International Wine Challenge, Wine Seminars, Best Sommelier in French and Thai Wines Competition 2017, Executive Housekeeper Association Workshop and Seminar, Hotels & Building Chief Engineering's Club Seminar, Dusit Thani College Seminars and many more.
Food & Hotel Thailand (FHT) 2017 will take place Wed 6th to Sat 9th September 2017 at Bangkok International Trade & Exhibition Centre (BITEC), Halls 103 to 105. Opening hours are from 10am to 6pm every day.
For more information please contact Ms. Wantita Porntanawong (Bow), Tel. +662 615-1255 ext. 123, email [email protected]or visit: www.foodhotelthailand.comor Facebook: Food & Hotel Thailand