Press Release
FOOD & HOTEL THAILAND IS ALWAYS DEDICATED TO PROMOTING THE INDUSTRY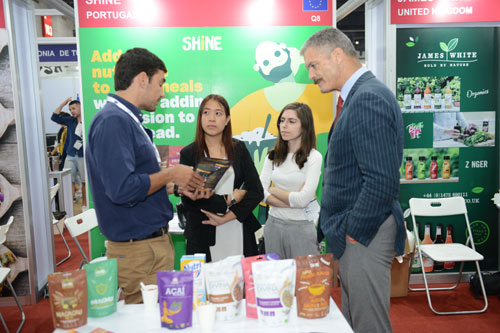 Bangkok – Food& Hotel Thailand (FHT) 2019 succeeded in promoting Thailand as one of region's most exciting food, hospitality and retail destinations, as well as providing an annual platform for industry professionals to network and discover premium products and solutions to better serve customers and the rapidly growing number of tourists.
FHT 2019 hosted 548 exhibitors from 40 countries (as well as 11 international pavilions, including three from Japan, two from China and Korea and one each from Denmark, the EU, Italy and Sri Lanka) over 18,000 sqm. in three halls at BITEC, Bangkok. These leading local and global companies attracted 31,769 trade visitors from 61 countries as potential buyers looking for a variety of key solutions for their food, hospitality and retail businesses. The number of attendees grew significantly from last year, with 4.7% of total visitors coming from overseas. Six zones and two new sections, Fine Food Thailand (FFT) and Restaurant & Bar Thailand (RBT), met both industry and retail needs.
This year's event was held ahead of the upcoming tourist high season to allow businesses to understand the latest industry trends and demands in order to seize the best opportunities early. According to FHT 2019, there has been an increase in concern surrounding organic and sustainability issues. Knowing these key factors will help businesses to draw interest and drive growth in local and international tourism, as well as achieve more sustainable business in the long run.
At the event, visitors were able to see various organic products, in addition to two new organic pavilions – one from EU Business Avenues in South East Asia and another from the Department of Internal Trade (DIT), which includes the Thai Organic Trade Association (TOTA), the Thailand Sustainable Agriculture Confederation (TSAC) and the Thai Organic Agriculture Foundation (TOAF).
Various equipment and facilities have adopted modern innovation and technology to help these industries provide better-quality products and services, as well as improve business itself. Customers are therefore able to receive a more impressive experience, while businesses gain a better public image and feedback through these advanced solutions.
In addition to the discovery of premium products and services, trade visitors were able to improve their skills and knowledge through various seminars and activities held concurrently with the event. These annual industry leading events included Thailand's 21st Hospitality Industry Congress; Thailand's 25th International Culinary Cup (TICC); Thailand National Latte Art Championship; Thailand National Coffee in Good Spirits Championship; the 15th FBAT International Wine Challenge Awards and Wine Tasting; Gelato Workshops by Carpigiani Gelato University; Thai Restaurant Association Seminar; Wine Seminars 2019; The Executive Housekeeper Association Workshop and Seminar; Hotel & Building Chief Engineering Club Seminar, Dusit Thani College Seminars; Thai Spa Operators Association Seminar; and Innovation Designs for Hotels using 4DNA Theory Application.
New events at this year's FHT also received positive feedback and drew major crowds. These included the National Gelato Festival Challenge and the new FHT Live Theatre, which held various activities covering a range of topics from beverages to organics and sustainability in ASEAN, including the Create A Signature Tea Drink Workshop, Create Your Own Cocktail Class, The Future of F&B, and many more.
"Thailand is a major Asian hub for food, hospitality and retail. I believe there is still room to grow and the local industry can reach this potential; however, the industry needs to know current customer demands and respond to them with the highest quality. For this reason, FHT has dedicated itself to offering premium products and services to move these industries forward. This year's event received great feedback from the participants and we are proud to be a part of the growth of Thailand's food, hospitality and retail industries. Of course, next year's event will be even better and will offer exhibitors and visitors more opportunities than ever," said Justin Pau, General Manager, Informa Markets – Thailand.The 28th Food & Hotel Thailand will return from 9-12 September 2020 at BITEC, Bangkok, with the same commitment to being the premier platform for providing the latest in premium solutions for the food, hospitality and retail industries.