Press Release
DISCOVER THE KEY INGREDIENTS FOR SUCCESS AT FOOD & HOTEL THAILAND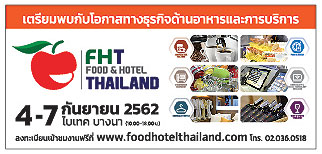 Bangkok – Food & Hotel Thailand (FHT) 2019 will return for its 27th successful edition expanding over 17% in number of exhibitors from last year, and presenting more new products, ideas and solutions for business, education and industry skills development.
Over 30,000 visitors are expected and will discover a great range of premium products and services from over 542 exhibitors from 40 countries, including 11 international pavilions from Italy (Bellavita), the EU (EUBA Organics), Denmark, Japan x3, Korea x2, China x2 and Sri Lanka across 4 action-packed days of Food & Hotel Thailand (FHT) including Restaurant & Bar Thailand (RBT) and Fine Food Thailand (FFT), taking place 4 to 7 September at BITEC, Bangna.
Once again, the industry is preparing for high season and high demand from growing tourist arrivals with over 40mil forecast this year, and FHT comes at the best time of year for businesses to prepare.
FHT supports the industry to grow and surpass customer expectations featuring focused concepts for hotels, restaurants, bars and retailers ranging from new organic and sustainable products to new innovations in foodservice and the very latest industry designs.
Consumer demand focused on organics and sustainability is driving new flavours and business in Thailand and across the world. FHT2019 will present two new organic pavilions from the EU Business Avenues in South East Asia and the Department of Internal Trade (DIT), which includes the Thai Organic Trade Association (TOTA), the Thailand Sustainable Agriculture Confederation (TSAC) and the Thai Organic Agriculture Foundation (TOAF). These new pavilions will present a wide range of products from locally produced organic produce to organic wines from Italy. Where visitors can find new ideas for business and also attend seminars on organic production and trends at FHT's New Live Theatre during the show.
The exciting Bellavita Italian pavilion returns and has doubled in size from last years successful participation presenting new exhibitors, activities and tastings showcasing Italian F&B at its very best.
New events for 2019 includes the National Gelato Festival Challenge with the winner going on to compete at FHA Singapore, and the new FHT Live Theatre including; Create A Signature Tea Drink Workshop, Create Your Own Cocktail Class, The Future of F&B, together with many more topics ranging from beverages to organics and sustainability in ASEAN. Annual industry leading events at FHT include; Thailand's 21st Hospitality Industry Congress; Thailand's 25th International Culinary Cup (TICC); Thailand National Latte Art Championship; Thailand National Coffee in Good Spirits Championship; the 15th FBAT International Wine Challenge Awards and Wine Tasting; Gelato
Workshops by Carpigiani Gelato University; Thai Restaurant Association Seminar; Wine Seminars 2019; The Executive Housekeeper Association Workshop and Seminar; Hotel & Building Chief Engineering Club Seminar, Dusit Thani College Seminars; Thai Spa Operators Association Seminar; and Innovation Designs for Hotels using 4DNA Theory Application have all seen high pre-registration as industry readies themselves for further growth and development.
"I'm very excited for the event this year as we've received great feedback from both visitors and exhibitors. The number of exhibitors grew by over 17% and our visitor pre-registration is also 9% higher with overseas group visitors coming from more than 12 countries. FHT together with Restaurant & Bar and Fine Food Thailand present the leading international platform to discover new F&B, hospitality and retail solutions under one very convenient roof." Said Justin Pau, General Manager of Informa Markets – Thailand.
The 27th edition of Food & Hotel Thailand 2019 will be held from 4-7 September, from 10am to 6pm every day, Halls 102-104 at BITEC, Bangna, Bangkok. FHT is a must-attend for the food, hospitality and retail industries looking to seize new opportunities for business growth.
For more information, please visit www.foodhotelthailand.com, Facebook Page www.facebook.com/Food & Hotel Thailand
Notes to Editor:
For more information, please contact Wantita Porntanawong (Bow)
Tel: +662 036 0521
Email: [email protected]
About Informa Markets Food & Hotel Thailand (FHT) 2019 is organised by Informa Markets, a division of Informa plc.Informa Markets creates platforms for industries and specialist markets to trade, innovate and grow. Our portfolio is comprised of more than 550 international B2B events and brands in markets including Healthcare & Pharmaceuticals, Infrastructure, Construction & Real Estate, Fashion & Apparel, Hospitality, Food & Beverage, and Health & Nutrition, among others. We provide customers and partners around the globe with opportunities to engage, experience and do business through face-to-face exhibitions, specialist digital content and actionable data solutions. As the world's leading exhibitions organiser, we bring a diverse range of specialist markets to life, unlocking opportunities and helping them to thrive 365 days of the year. For more information, please visit www.informamarkets.com