Press Release
FOOD & HOTEL 2018 ACHIEVES SUCCESS WITH BIGGEST EVENT TO DATE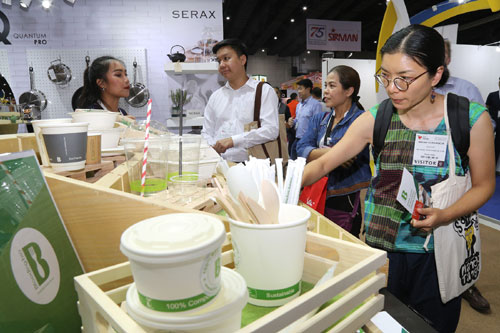 Bangkok — From 5 to 8 September, Food & Hotel Thailand 2018 (FHT) once again succeeded in providing complete solutions and the latest food & hospitality industry know-how at its biggest event yet. FHT 2018 continued to position itself as the region's leading exhibition for premium products, equipment and technology. Those are keys responding to current trend of premium demands where people are likely to be satisfied with specialty products and services that usually come along with convenience ad customization.
This year's event held 29,021 visitors from 66 countries around the world. FHT 2018 also saw a 20% increase in potential visitors, solidifying its place as a significant international platform for the food & hospitality industry. Spanning three exhibition halls, attendees met with 466 exhibitors from 33 countries representing more than 2,000 international brands.
Eight international country pavilions showcased innovative food, beverage and hospitality products from leading nations in this sector, including China, Japan, and South Africa. This year also featured five new international pavilions: Italy, organized by Bellavita; Korea, organized by Jeonbuk Institute For Food-Bioindustry (JIF); Poland, organized by the National Support Centre for Agriculture (KOWR); and two from Japan, one organized by Osaka and another by Taito Tokyo. Visitors also enjoyed two new local pavilions: Central E-san, highlight food and products from Thailand's northeastern region, and the Green Suppliers Pavilion which displayed green and sustainable products.
FHT strives to share the latest knowledge and solutions with various seminars and activities through the event. These included Thailand's 20th Hospitality Industry Congress; Thailand's 24th International Culinary Cup (TICC); Thai Restaurant Association Seminar, Thailand National Latte Art Championship 2019; Thailand National Culinary Team Final Preparation Lunches before competing in the Culinary World Cup 2018; 14th FBAT International Wine Challenge; Wine Seminars and Wine Master Class 2018; Best Sommelier in French and Thai Wines 2018; Executive Housekeeper Association Workshop and Seminar; Hotels & Building Chief Engineering's Club Seminar; Dusit Thani College Seminars; and Thai Spa Operators Association Seminar.
Five brand new activities received positive feedback from participants including Gelato Workshops by Carpigiani Gelato University, the Thailand National Coffee in Good Spirits Championship, ASEAN Professional Beverage Association (APBA) Masterclasses 2018 Topics - Sake Introduction/Masterclass and Whiskey Class Introduction, and Innolab Forum Food Allergen Management for Food Retail, Food Services & Food Catering.
"FHT has proven its position once again as a leading platform for professionals in the food & hospitality industry. Businesses are able to improve their networks and increase their competitive edge by taking advantage of the premium products and the latest technologies displayed here from around the world. Exhibitors are eager to join FHT again next year as they were happy to meet and share their experiences with such a large audience of key industry professionals ," said Mr. Justin Pau, General Manager of UBM Asia (Thailand) Co., Ltd.
"We saw significant growth and advancements this year. To continue our commitment of meeting the demands of this ever-changing industry, we will return next year with even more of offerings and information-sharing opportunities. FHT 2019 will highlight fine food and expand to include restaurants and bars. As always, visitors will have access the best products and technologies curated from leading domestic and international companies. We have received an overwhelming response from exhibitors and International Pavilions who are excited to make FHT 2019 the best yet."
FHT 2019 will return from 4 to 7 September, Halls 102-104 at BITEC, Bangkok, with the premium products and technologies from around the world. With the addition of the restaurant and bar market, next year's event is expected to attract even more visitors. This is an incredible opportunity to interact with industry leaders and grow your business. For more information, please visit www.foodhotelthailand.com, Facebook Page www.facebook.com/Food & Hotel Thailand
Notes to Editor:
For more information, please contact Wantita Porntanawong (Bow)
Tel: +662 036 0521 Email: [email protected]
About Food & Hotel Thailand
Food & Hotel Thailand is organised by UBM, which in June 2018 combined with Informa PLC to become a leading B2B information services group and the largest B2B Events organiser in the world. Please visit www.ubm.com/asia for more information about our presence in Asia.